Assam down town University (AdtU) celebrated its 7th Convocation Day on Monday, 19th October 2020 from 11 A.M onwards. Unlike every year this year had been extra special as amidst this pandemic, AdtU decided to conduct the convocation virtually, where the event will be live on AdtU Official YouTube channel. For the very first time, the event will attract a large number of students and parents from all over the country and also abroad.
The Chief Guest for the Convocation was the Hon'ble Chancellor Dr. N.N Dutta along with Vice-Chancellor Prof. (Dr) N. C Talukdar and Dean of Studies Prof Bandana Dutta. Also in attendance were other dignitaries from the academic world, industries, and our respected trustee members. Former Vice-Chancellor and current Advisor Prof. (Dr) Amarjyoti Choudhury and first Vice-Chancellor of AdtU, Dr. Nandita Choudhury graced the ceremony with their presence.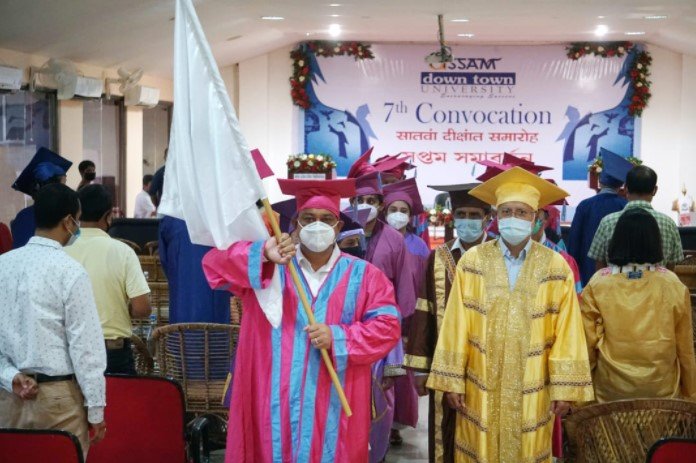 This year a total of 860 students and scholars have graduated, of which 647 are Undergraduates, 209 are Post Graduates, and 4 Ph.D. degrees have been awarded. The event commenced with the academic procession by the esteemed dignitaries of Assam down town University with the University anthem playing in the background. Hon'ble Chancellor, AdtU, Dr. N. N. Dutta started the award ceremony with a welcome address which was being followed by a speech by Prof (Dr) N. C. Talukdar, Vice-Chancellor of AdtU. Prof Bandana Dutta, Dean of Studies, AdtU awarded the Ph.D. Degrees to the four scholars namely Mr. Debojit Bhattacharya, Mr. Abhijit Dutta , Ms. Banajeeta Sharma & Ms. Manashi Mazumdar.
Assam down town University encourages the students by awarding the title of Best Graduate and Post Graduate during Convocation every year. This year the Best Graduate is Ms. Napolina Kishor Pathak of BSc. Microbiology, Faculty of Science and the Best Post Graduate is Ms. Kashmiri Sonowal of M.Pharm, Faculty of Pharmaceutical Sciences. This year being the highest number of placements recorded, a special award category of Appreciation for the Best Placement Achiever of the year is awarded to Mr. Siddharth Das of BTech CT&IS. The student has received a total of 7 Placement Offers bagging the highest package of INR 10 LPA. The Convocation Ceremony concluded with the National Anthem.