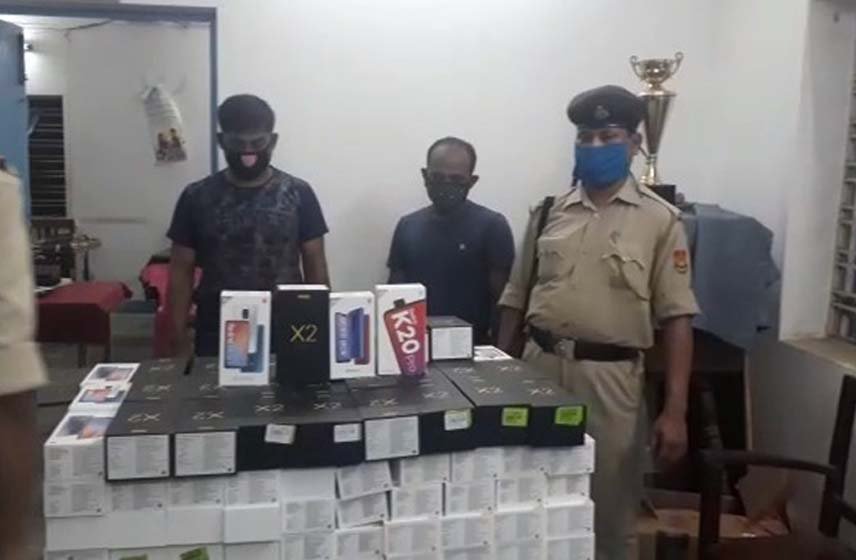 The Agartala Amtali Police station has achieved great success in cracking down a mobile smuggling gang. On the way to smuggle from Sonamura to Agartala, 27 lakh 59 thousand worth of expensive mobiles were seized by Amtali police and a white Swift car number TR-07-0522 was seized.
Two notorious traffickers have been arrested, one is Ripon Ahmed, 35, a resident of Bejimura, Sonamura, and the other is Hanif Moysan (33), a resident of Sonamura Bridge Chaumuni. Amtali Police Station OC Siddharth Kar led the seizure of the illegal mobiles along with the vehicle on Wednesday night.
Speaking to  My News NE, Amtali Police Station OC Siddharth Kar said that they had received information that a white Swift vehicle would be used to smuggle Sonamura mobile phones from Agartala. Upon receiving this news, the police of Amtali police station started surveillance in Naka. A search of the car turned up 154 ​​expensive branded Android mobile phones. The mobiles did not have any valid documents. Police have started questioning the accused and the initial investigation is going on.
Report by Bikram Karmakar, Special Correspondent Tripura