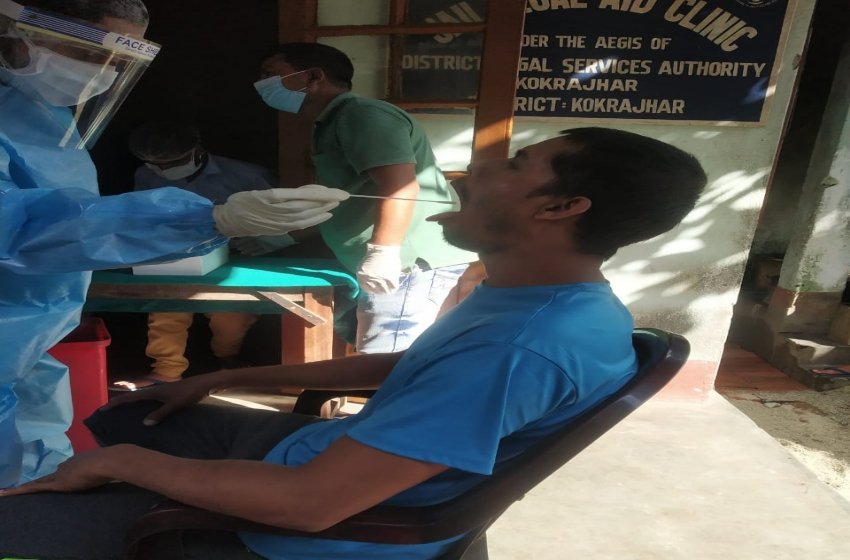 Random COVID test starts in Kokrajhar Jail
The authorities of Kokrajhar district administration have started random swab sampling of prisoners and jail staff to check spread of Covid-19 pandemic in Kokrajhar jail.
Talking to reporters in Kokrajhar today , Additional Deputy Commissioner Kokrajhar Pranjal Das said that the exercise was started on Wednesday. He also said that the random swab sampling of all the 326 male and female jail inmates and staff of Kokrajhar jail will be done in a phase manner and they have been kept in isolation till collection of their report.
Sailen Dutta Das ACS. Kokrajhar said that  as per direction from the jt. secy to govt of Assam, home and political Dept (vide letter no HMB.S9/2020/146, dt. 13/7/2020), the district  administration, Kokrajhar, in coordination with office of jt. Director, health services, today arranged swab collection of the jail officials and jail inmates of district jail Kokrajhar. At present there are 326 jail inmates in the jail which include 282 male and 44 female inmates. Alongwith them swab tests also conducted for 22 jail officials/staff. The drive will take a week to complete the entire process.
He said that to contain spread of Corona in the midst of jail inmates this drive has been conducted.He also said that the Jail authority has also endeavoured to implement social distance amongst the inmates and swab test collection will continue till jail inmates finish.