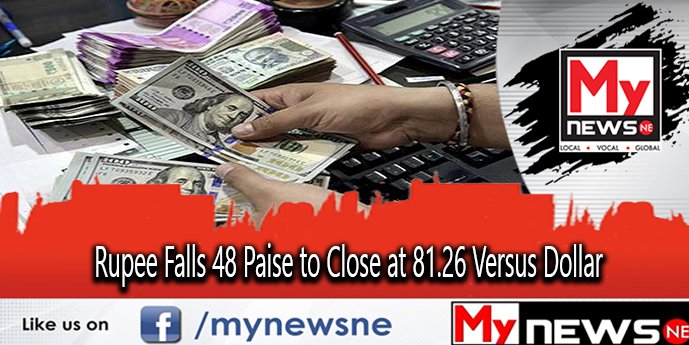 Guwahati: The Indian Rupee strengthened during the morning session on Monday before falling 48 paise to settle at 81.26 against the US dollar following the flat trend in Indian markets.
Forex traders claimed that India Inc was a major factor in the rupee's steep decline following a strong start on Monday.
Corporate demand for dollars soared as a Federal Reserve official's warnings about US inflation kept the dollar steady. Traders added that improving investor sentiment was also hampered by rising crude oil prices.
The dollar index increased 0.75 percent to 107.09. A relative indicator of the US dollar's strength against a basket of six significant currencies, including the Euro, Swiss franc, Japanese yen, Canadian dollar, British pound, and Swedish krona
S&P BSE Sensex ended the day 170 points lower at 61,624.15 while Nifty50 finished 20 points worse at 18,329.15 on the local markets.
According to exchange data, Foreign Institutional Investors (FIIs) were net purchasers in the capital markets on Monday, buying shares worth Rs3,958.23 crore.
According to Seshadri Sen, Head of Research at asset management firm Alchemy Capital Management, the rupee "may stay weak to volatile for a time, but we think the worst is mostly over for the currency."
Sen claimed that despite significant selling by foreign institutional investors, the US Federal Reserve's tightening of monetary conditions, and the protracted conflict in Ukraine that drove up global oil prices, the Indian rupee had withstood the storm.
The rupee broke through the 83 level for the first time ever in October. The rupee has declined by about 8–9% so far this year.
According to the Index of Industrial Production (IIP), India's industrial output increased by 3.1% in September, helped by a double-digit rise in electricity production. In the previous month, there was a contraction of 0.8%, and in September 2021, there was growth of 4.4%.