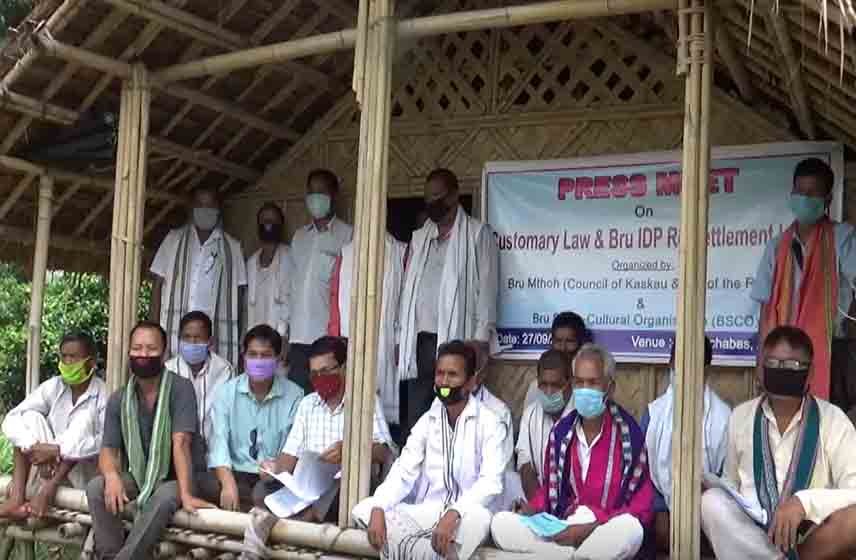 'Tripura Government has not taken Bru Settelment agreement seriously' Bru Mthoh Council
The Bru Moth (Council of Cascade and Roy of Ryans) and Bru Socio Cultural Organization addressed a Press Conference at Malch Nibas in Agartala to put forward their various demands. The Press Conference was attended by  Pancharam Riang Bru Moth Council by Reans, Kripejay Reang and others.
According to the Bru communities of Tripura the state government has cancelled the land allotted to the entire Reang community in exchange for the site of Reang's Kuldevi Sangrangma to a temple under the Anandamoyee Ashram at Palace Compound in the name of Sangramma Matha, a religious organization in Agartala.
The Government of India, the Government of Tripura, the Government of Mizoram, the Indigenous Progressive Regional Alliance (TIPRA) and the Bru-Reang Refugee Council have signed a historic agreement Suraksha Mancha and Mizo Convention have been carrying out deep conspiracies and attempts for a long time. They strongly condemn the mischievous and heinous conspiracies of communal, reactionary and evil forces like the Civil Protection Forum and the Mizo Convention. Besides, they are strongly condemning the unauthorized practices and unwarranted interference of the Chief Minister of Mizoram regarding the Bru Reang Agreement.
Report by Bikram Karmakar, Special Correspondent Tripura