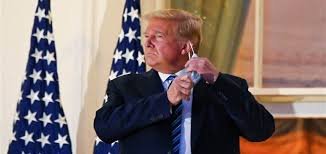 Trump returnes to White House
US President Donald Trump returned to the White House after leaving the military hospital. He was being treated for Covid-19. He staged a dramatic return as he entered the White House without a protective mask.
Wearing a white surgical mask, Donald Trump gave a thumbs-up and waved at reporters as he walked to the executive mansion from the helicopter that flew him back from the Walter Reed Medical Center outside Washington.