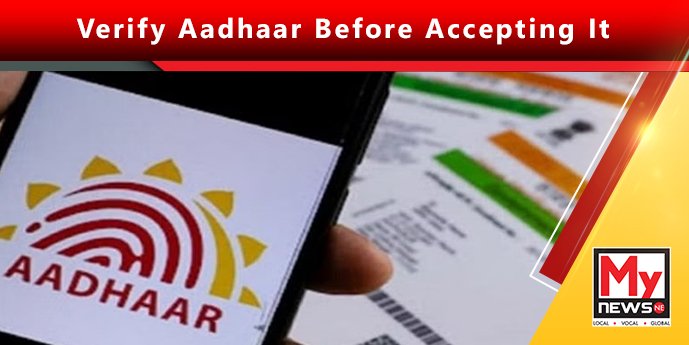 Guwahati: Entities should verify the validity of Aadhaar before recognising it as a person's identity evidence, whether in physical or electronic form, the UIDAI stated on Thursday.
According to the Unique Identification Authority of India (UIDAI), the proper procedure to determine the validity of any form of Aadhaar (Aadhaar letter, e-Aadhaar, Aadhaar PVC card, and m-Aadhaar) presented by the individual in question is to verify the Aadhaar number after receiving the Aadhaar holder's consent.
In a statement, the Union ministry of Electronics and IT said verification of Aadhaar prohibits 'unscrupulous elements and anti-social elements' from indulging in any possible misuse of the identification document. Additionally, it reinforces the UIDAI's position that any 12-digit number is not Aadhaar and encourages good usage hygiene.
The statement added that tampering with Aadhaar papers is a serious offence and subject to fines under Section 35 of the Aadhaar Act and that it can be identified through offline verification.
The UIDAI has emphasised the necessity of authentication or verification before use and urged states to issue the required directives so that anytime Aadhaar is submitted as a proof of identity, the organisation involved performs authentication or verification of the bearer.
The Authority has additionally sent out a circular requesting that entities with authorization perform authentication verification. In addition to outlining the protocol to be followed, it also emphasised the importance of verification.
Furthermore, the statement claims that any form of Aadhaar, including the Aadhaar letter, e-Aadhaar, PVC card, and m-Aadhaar, can be validated using the QR codes on them. This can be done with either the mAadhaar app or an Aadhaar QR code scanner. On mobile devices running Android and iOS as well as window-based software, the QR code scanner can be downloaded for free.
The statement added that UIDAI had already published dos and don'ts for citizens to prevent misuse of the identification document. Residents may also voluntarily use their Aadhaar numbers to confirm their identity by presenting their Aadhaar—in either paper or electronic form, it said.