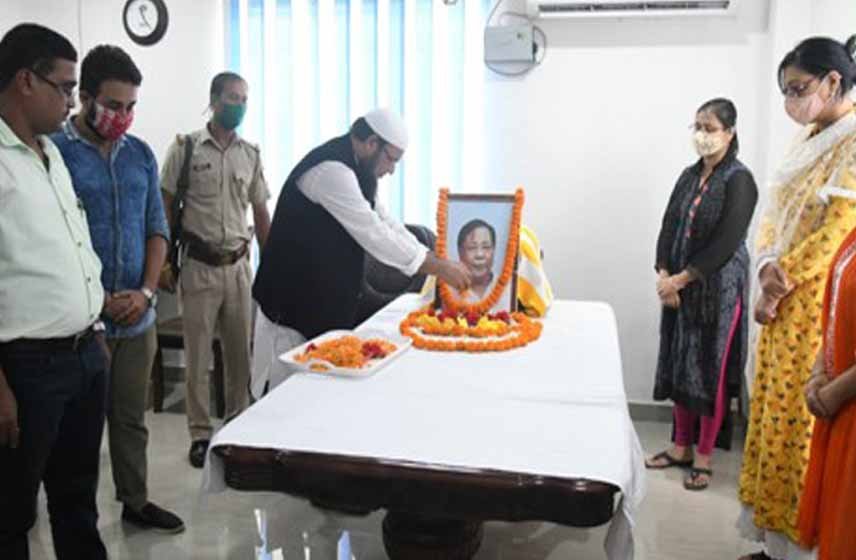 USTM pays tribute late PA Sangma
The University of Science & Technology Meghalaya (USTM) along with the Regional Institute of Science and Technology (RIST) jointly paid floral tribute to Late PA Sangma, the 4th Chief Minister of Meghalaya on the occasion of his 73rd Birth Anniversary today at both the institution's head office ERD Foundation located in Guwahati, Assam.
Mahbubul Hoque, Chancellor, USTM, Dr. Mridul Hazarika, VC, USTM and other administrative officials of both the institutions were present at the event.  The event started with a welcome note by the Vice Chancellor Dr. Mridul Hazarika. It was followed by a brief speech by the Chancellor Mahbubul Hoque.
Addressing the gathering on the occasion,  Hoque said, "his mentorship and immense support in the development of USTM and RIST will never be forgotten." "He was a great man with a golden heart", he added. The speech session was followed by a small tribute session in which floral tribute was given to PA Sangma by everyone present at the ceremony.
It is worth mentioning here that Late Sangma played a very crucial role in the establishment and development of  USTM and RIST, both located in the Ribhoi district of Meghalaya.