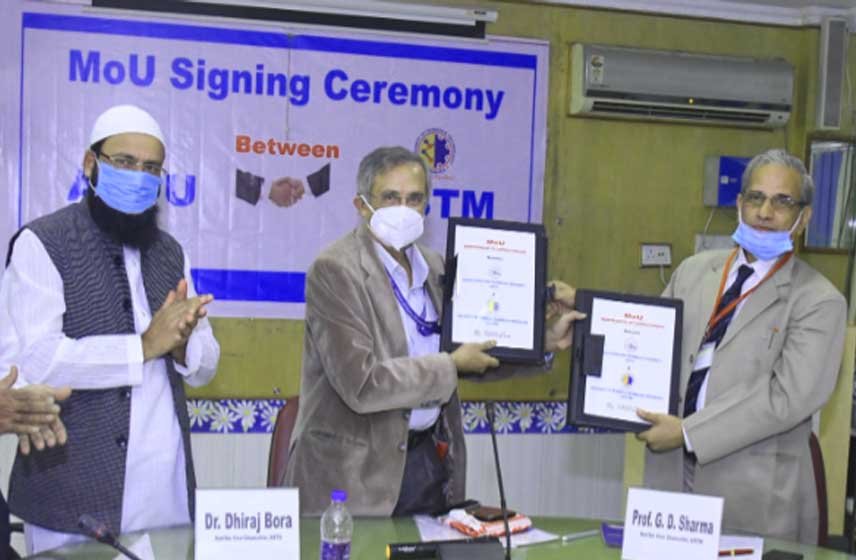 The University of Science and Technology Meghalaya (USTM) has today signed a Memorandum of
Understanding with Assam Science and Technology University (ASTU) which is expected to benefit both
the institutes through faculty and student exchange program, submission of collaborative projects and
conduction of seminar, workshops etc jointly as outreach program.
The ceremony which took place at the conference hall of USTM was attended by a delegation of ASTU
led by their VC Dr. Dhiraj Bora,  Mahbubul Hoque, Chancellor USTM, Prof. G.D. Sharma, VC, USTM
along with other higher authorities, administrative officials and faculty members of USTM.
The event started with a welcome speech by the USTM Chancellor M.Hoque. Addressing the gathering
on the occasion, Hoque said,This good initiative will surely set a new milestone in the field of
science and technology in Northeast India.
It was followed by a speech by the ASTU Vice Chancellor Dr. Bora" Encouraging the students in research
oriented activities should be the need of this hour", he mentioned.It was followed by a speech by the USTM Vice Chancellor Prof. G.D. Sharma. Congratulating both the institution for this remarkable initiative, he said,It will definitely open up new windows for various research oriented activities and technological development with respect to the Northeastern culture.
Dr. Nripen Das, Registrar, ASTU, Dr. B.R. Phukan, Academic Registrar, ASTU,Dr. S. Murli Mohan, COE,
ASTU, Shri Debajyoti Goswami, FAO, ASTO, Dr. R.K. Sharma, Advisor, USTM, Dr. B.K. Das, Director,
Admin, USTM were the other remarkable dignitaries present at the event.