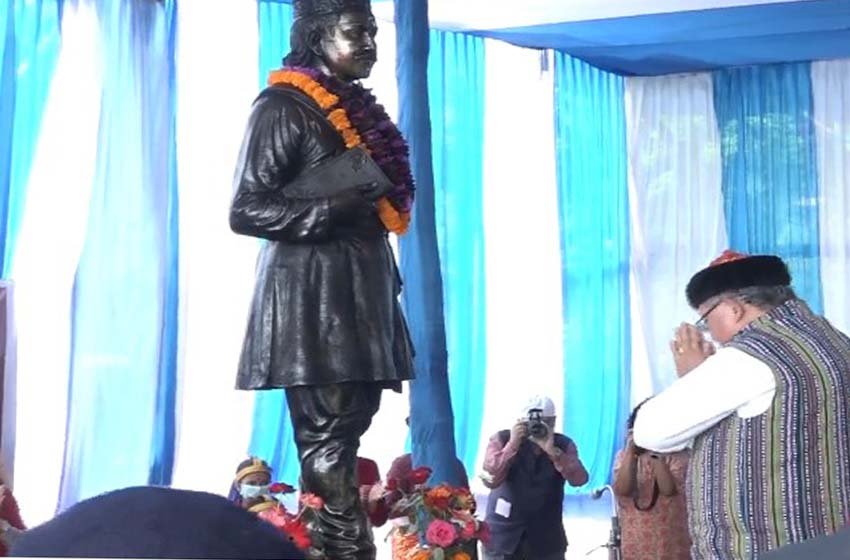 206th Birth Anniversary of Adikavi Bhanu Bhakta Acharya Observed in Sikkim
The 206th birth anniversary of Adikavi Bhanu Bhakta Acharya was observed in a function organised by Nepali Sahitya Parishad at Bhanu Udhyaan, Zero Point, Gangtok today. The function was graced by the Governor Ganga Prasad as the Chief Guest, Chief Minister Shri Prem Singh Tamang as the Guest of Honour, along with the other dignitaries.
To commemorate Bhanu Jayanti, the programme commenced with the lighting of lamp, offering of prayers, recitation of verses from Ramayana and garlanding to the statue of late Bhanu Bhakta Acharya at Bhanu Udhyaan by the Chief Guest, Guest of Honour and other dignitaries present.
Addressing the gathering, the Chief Minister Prem Singh Tamang said that Adikavi Bhanu Bhakta Acharya has been an inspirational figure and remarked that Adikavi laid the foundation of Nepali literature and has always been revered as a significant literary figure in the Nepali communities.
Citing Ghasi as an inspirational figure, the CM said that Bhanu Bhakta was greatly influenced by a Ghasi to do something noble which eventually resulted in the translation of the great epic, the Ramayana, from Sanskrit to Nepali language which he made it accessible, readable and understandable for a wide range of Nepali speaking communities globally. He also threw light on the Ramayana and it's relevance in today's world urged the present generation to draw inspiration from Adikavi's noble work. On the occasion, the Chief Minister also announced to construct a permanent infrastructure at Bhanu Udhyaan in near future.
Governor Ganga Prasad in his address briefed on the life of Adikavi Bhanu Bhakta Acharya and his notable contributions to the Nepali language. He added that the Ramayana's profound teachings has and will continue to inspire generations and asked everyone, specially the younger one's to imbibe the great work of Adikavi which has basic human ethics & values.
Report by Prakash, Special Correspondent Sikkim