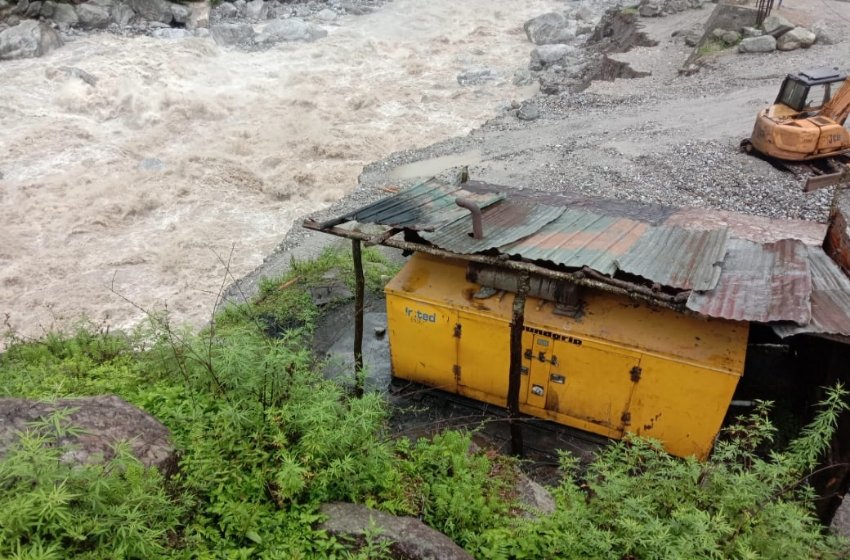 Incessant Rain Cripples Life in Sikkim
Incessant rain has once again crippled the life in the state of Sikkim and causes havoc across the state, if somewhere due to mudslip has blocked the road then the two only rivers of the state Teesta and Rangit are flowing in danger level causing threat to the villages settled on the edges of both the river in various parts of the state.
In this regard as many as 35 families, residents of Adarsh Gaon, Singtam 30 kilometre away from Gangtok are under threat due to river Teesta upsurge. River Teesta is flowing with its mightiest form and has turned violent and flowing above danger mark causing a threat to entire village. Similalry, people of Peepaley and Rothak got alarmed after seeing the swelled river Rangit which damaged eight houses last night.
Sikkim in last 24 hours recieved heavily rainfall and as per the record Indian Meterological Department, Sikkim Station it was recorded that North Sikkim 85.3 mm, West Sikkim 44.5 mm, South Sikkim 19.2 and East Sikim 07.3mm and today also from early morning Sikkim is receiving heavy rainfall.
Last night level of Rangit river has raised due to ongoing incessant rainfall and water release by NHPC( Legshep Rangit Dam) also releases water due to which causes loss in villages like Rothak, Pipaley but it was only infrastructure damages and no human casualties reported as per the basic survey and reported damages to the eight houses.
While as per the management of Dam it was told that the flow of river was too heavy and we tried to balance water in our reservoir but it was too heavy was filled ans siltation was also there and we have to release the water as it threts the dam so we releasd the water but we have alerted the people by playing hooters
Meanwhile, due swelling of river Rangit
Hot water spring situated Sanganath, GPU under Barfung constituency which is also famous tourist place has been damaged due to swelling of river Rangit after heavy rainfall. Small homestays which was built nearby to spring has been damaged nearly 45 in number informed Local of the village.
Report by Prakash, Special Correspondent Sikkim