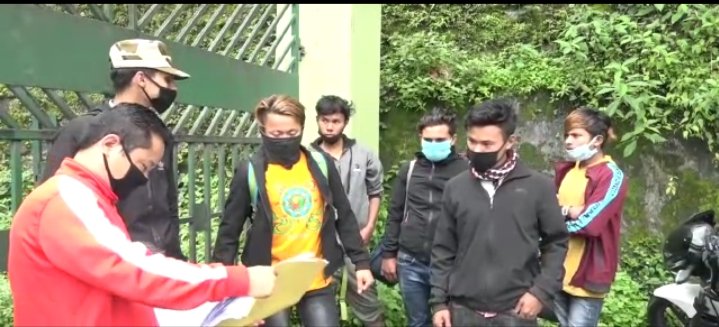 STRANDED NEPALESE RETURNED BACK FROM SIKKIM
On the request of the External Affairs Ministry in coordination with Nepal Embassy in New Delhi, Sikkim Government has deported 209 Nepalese citizen from Sikkim this morning.  Additional District Magistrate, Jamyang C. Namgyal told reporters here at Gangtok this morning, that 235 Nepalese citizen had registered their name in returnees list of which 83 didn't turn up and a fresh 51 had registered this morning and sent them through Sikkim government undertaking buses. Six buses have taken them to Indo-Nepal border at Karkarvitta, Easter borderat Nepal.
ADC Namgyal said that Sikkim government have scarcity of public transportation as most of the buses have been pressed to service to bring Sikkimese returning, because of that social distancing is not able to maintain however Sikkim  falls under Green Zone .
The 209 Nepalese citizen have paid their returned journey fee to the time of Rs.300 per head.  Speaking to the media, one of the returnees Kishore Baniya of Illam, eastern Nepal said, they were happy that Sikkim government have made them able to return and have supported them well in coordination with Government of India and Nepal Embassy.
They were thankful to the Sikkim government for all support and they have not faced any hardships during the lockdown period. Since the lockdown was partially lifted from 3rd May, last month, they were abled to earned their livelihood properly, however, at this situation they were egar to meet and reunion with their family members would be another moment of joy.