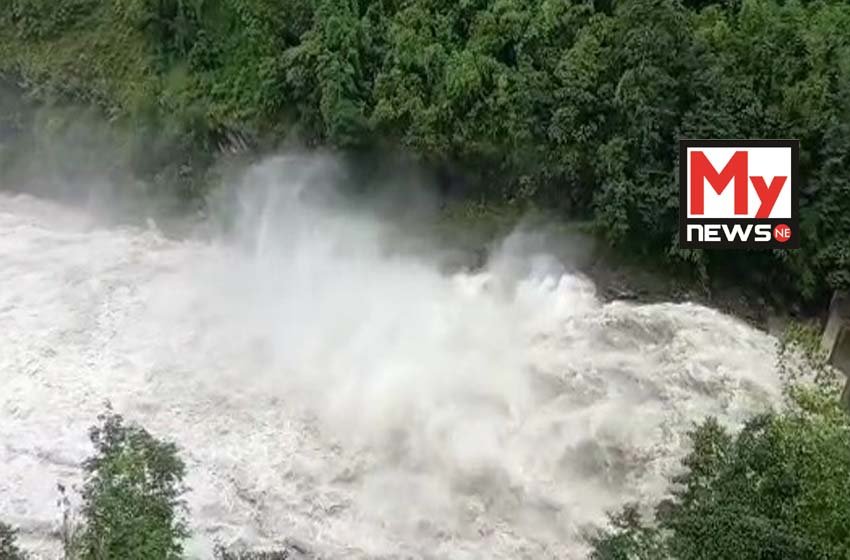 Sikkim state is witnessing heavy monsoon rainfall which has created havoc across the state. Water level of the both the main river of Sikkim that is Teesta and Rangit are flowing above the danger level which has pose a threat to the Adarsh Gaon in Singtam town and other villages along the Teesta edges. Due to heavy downpour most of the districts roads are also blocked as part of the roads have been wsashed away by the heavy rainfall.
Yuksom Tashiding is also blocked, similalry Chongrang- Labdang road is also blocked, Yamtam – Phamtam is also blocked and Rimbi – Khechepalri is also blocked. Road between Yuksom and Tashiding is blocked as the road has been washed away by floating water due to heavy downpour at Phamrong. While Dzongu village is still cut off from mainland Sikkim.
A building below the Mangan Police station has been collapsed due to heavy downpour. The building was already vacated by the authority , all the residents were also evacuated looking at the potential threat of collapse. SDPO Mangan, SHO Mangan PS, Disaster management team, rescue team and all other concerned officer were at the spot and evacuating the people and necessary items.No human casualties reported. As per Indian Meteriological Departement, Sikkim Station Sikkim has received nearly 70 mm of rainfall in the morning hours only. This is just a beginning of the monsoon season still peak monsoon is yet to come.
Report by Prakash, Special Correspondent Sikkim